Prenzlauer Berg is full of great coffee shops and delicious breakfasts. We spent quit a bit of time talking to locals and walking the streets, and we are pretty damn happy with the results! Take a gander below.
No Fire No Glory – This place is loved by Berlin locals for its great coffee, so you know its good. We highly recommend.
Bonanza Coffee – Perfectly crafted coffee on a Synesso Cyncra coffee machine.
Schlomo's Bagels – American style bagels and strong coffee.
Kaffee Käthe – A seriously homely cafe with Scandinavian vibes. With some of the best eggs in town, and rosemary lattes, this place is certainly one to try.
Colombina Cafe – A lovely little Columbian cafe that serves lovely homemade goodies and great breakfasts.
Nothaft & Seidel – Incredible homemade sweats made by their in house bakers.
An einem Sonntag im August – An incredibly popular cafe that serves an breakfast, veggie burgers and cocktails as the day begins to slip away. Music, readings and exhibitions are all part of its charm.
Café Kraft -Though the place is small and the food, especially the weekend brunches, is delicious. Hook into the free WiFi and enjoy the day.
Friedl Rösterie & Kekse – Amazing roasted coffee, and cookies to match!
Cafe Morgenrot – A collective that serves an all you can eat vegan / vegetarian buffet for a price that suits your financial situation.
Lass' uns Freunde bleiben – A neighbourhood favourite. Good German food and cheap coffee. Return in the evening for beers.
Nalu Diner – Proper American breakfasts all day long. Free coffee refills like any true American diner.
Early Birds – Sweet tooth paradise.
Cafeé Gong Gan – Coffee and Korean food, think home cooked bibimbap.
Allans Breakfast Club and Wine Bar – Breakfast is in the name, and these guys do not disappoint.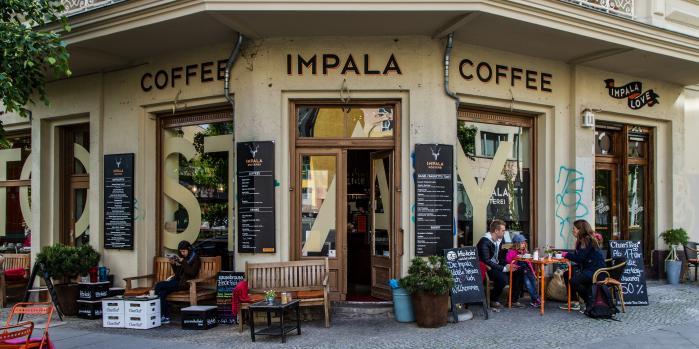 Impala Coffee – With two locations in Berlin you won't be disappointed in their coffee or pretzel croissants.
Café CK – Another great cafe that has an extensive assortment of brews.
Kapelle – A delicious organic / vegetarian cafe selling amazing breakfasts, which are served till 5pm on the weekends.
Godshot – We feel like the name says it all. These guys also offer barista courses.
Betty 'n' Catty – Lovely coffee, tasty cookies and fantastic breakfasts.
Meierei – German alpine breakfasts.